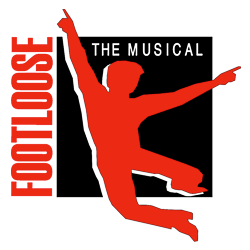 Open Auditions
January 11, 13 & 14 (Tuesday, Thursday, & Friday)
From 5:30 pm – 8:30 pm
Captain Isaac Paine School Auditorium
160 Foster Center Road, Foster, RI.
NOTE: Thursday auditions will be held at South Foster Fire Station.
Roles are available for ages 12+ older.
Those interested should prepare one verse of any song and be ready to read from the script and show dancing ability.
Please bring a passport size photo.
For more information contact Bob Hollis at revbobh@aol.com or swampmeadow@aol.com
Performance Dates:
Apr 29, 30, May 1, 6, 7, 8
ROLES FOR FOOTLOOSE
ADULT MALE ROLES
Rev Shaw Moore #1
Uncle Wes Warnicker #2
Coach Roger Dunbar #6
Cowboy Bob #6
ADULT FEMALE ROLES
Vi Moore #1
Ethel McCormack #2
Aunt Lulu Warnicker #2
Eleanor Dunbar #2
ADULT EITHER GENDER ROLES
Principal Clark #6
Owner of the Burger Blast #6
Cop #6
Chicago Workers (Song and Dance)
TEEN MALE ROLES
Ren McCormack #3+4
Willard Hewitt #3
Chuck Cranston #6
Lyle (Read for Chuck)
Travis (Read for Chuck)
Jeter (Read for Willard)
Brickle (Read for Willard)
Garvin (Read for Willard)
TEEN FEMALE ROLES
Ariel Moore #3
Rusty #5
Urleen #5
Wendy Jo #5
TEEN EITHER GENDER ROLES
Chicago Teens (Read for Ren, Rusty, Urleen)
Bomont School Teens (Read for Willard, Urleen, Wendy Jo)
ANY AGE ANY GENDER
Chicago Movers (Song and Dance)
Bomont Townspeople (Read for Coach, Eleanor, Burger Owner)
Church Choir (Song)
Cowgirls #5
Download Audition Pieces:
PDF file: Footloose_Audition_Pieces.pdf
MS Word: Footloose_Audition_Pieces.doc
Download Chorus Dance Moves:
PDF file: Footloose_Chorus_Dance_Moves.pdf
MS Word: Footloose_Chorus_Dance_Moves.doc