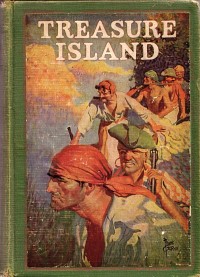 Robert Louis Stevenson's Treasure Island
Adapted by Liam Dailey
Our fabulous cast along with the top-notch production crew took audiences on an adventure into a time of pirates, mutiny, and an exciting battle over Ole Captain Flint's treasure.
Our show dates were:
November 15 & 16, 2007 at 7:00 pm
November 17, 2007 at 1:00 pm & 7:00 pm
November 18, 2007 at 3:00 pm
REHEARSAL PHOTOS:
[lg_folder folder="Treasure_Island/"]
CAST:
fosteringArts.org's Swamp Meadow Community Theatre's production of Treasure Island has been cast. Director Liam Dailey, who also adapted this Robert Louis Stevenson's classic, and his audition panel have chosen a talented cast. Here is the Who's Who …
The scene for this play was set by the Storyteller, Pat Gilson. Burr Harrison portrayed Long John Silver and Jake Wolf-Jensen played the young Jim Hawkins. Honest upstanding citizens and family members were played by Sherri LaValley (Squire Trelawney), Gary Pickard (Dr. Livesey), Dennis Chretien and Sandy Arnold (Mr. & Mrs. Hawkins), Per Brostrup-Jensen, Gregory Smith, and Tyler Worcester. Laurie Murphy was Captain Smollet, who headed the honest sailors Samantha Pike and Bronte Dinges. Buccaneers battling for Ole Captain Flint's treasure were Bob Hollis, Chris Brostrup-Jensen, Amanda Betchy, Phil Colosante, Russel DuCharm, Kyle Pickard, Zach Farnum, Elizabeth Russo, Scott McGill, Olivia Harrison, Heidi Gigueve and Seirra Kennedy-Tanner.