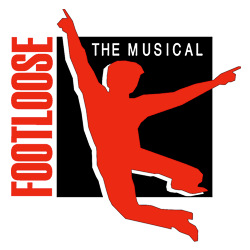 Directed by Bob Hollis
FOOTLOOSE is currently under production.  We have the wonderfully talented actors and actresses that have made SMCT Productions such quality hits!  We welcome many newcomers to add to our regulars.
We are most excited that this cast is under the Musical Direction of Miss Kimberly Brayton and the Choreography of Miss Audra Hebard, two young professional women who have raised our quality one more Giant Step forward!
We will also, for the first time, have a live band with the production adding to the life and depth of the production!
Performances will be:
Friday, April 29 @ 7
Saturday, April 30 @ 7
Sunday, May 1 @ 2

Friday, May 6 @ 7

Saturday, May 7 @ 7

Sunday, May 8 @ 2 (Happy Mother's Day Performance)
Coventry Senior Center on 50 Wood Street in Coventry RI.
DIRECTIONS
From Foster, Glocester
94 South, right onto 102 south, left onto 117 east, right onto South Main Street, left onto Wood Street
From Scituate, Johston
116 South, right onto 33/117 west, left onto 33 (Sandy Bottom Road), right onto Wood Street.
From Providence
Route 95 South, take exit 7 (Warwick, Coventry), right onto New London Turpike, left onto Arnold Road, Cross route 3 to Sandy Bottom Road, Immediate left to Wood Street
From Connecticut
Route 14 east to 117 east, right onto South Main Street, Left onto Wood Street
Get your tickets now … a site will be chosen by March 15
Meet the cast!
FOOTLOOSE
Stage Adaptation by DEAN PITCHFORD and WALTER BOBBIE
Based on the Original Screenplay by Dean Pitchford
Music by TOM SNOW Lyrics by DEAN PITCHFORD
Additional Music by ERIC CARMEN, SAMMY HAGAR, KENNY LOGGINS and JIM STEINMAN
Show Synopsis:

One of the most explosive movie musicals in recent memory bursts onto the live stage with exhilarating results. When Ren and his mother move from Chicago to a small farming town, Ren is prepared for the inevitable adjustment period at his new high school. What he isn't prepared for are the rigorous local edicts, including a ban on dancing instituted by the local preacher, determined to exercise the control over the town's youth that he cannot command in his own home. When the reverend's rebellious daughter sets her sights on Ren, her roughneck boyfriend tries to sabotage Ren's reputation, with many of the locals eager to believe the worst about the new kid. The heartfelt story that emerges is of a father longing for the son he lost and of a young man aching for the father who walked out on him. To the rockin' rhythm of its Oscar and Tony-nominated top 40 score (the soundtrack album reached number one on the Billboard charts and has sold over 15 million copies!) and augmented with dynamic new songs for the stage musical, FOOTLOOSE celebrates the wisdom of listening to young people, guiding them with a warm heart and an open mind.